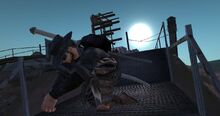 Just a guy with an insatiable hunger to figure out how things work, and a tendency to share what I know. I've been playing Kenshi since well before it hit Steam and have often wished the wiki was up to date and in a usable state. And I have no intention of stopping till it is.
If you have any questions about Kenshi or the wiki feel free to ask. I'm happy to help! :D
If you need to contact me privately, feel free to PM me over on the official forums.