Arcane: League of Legends - The Loop
Play Sound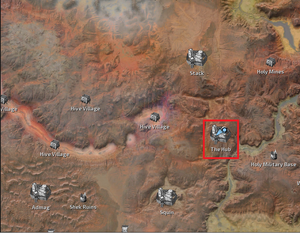 The Hub is a town of Holy Nation Outlaws located near the center of The Border Zone. The bar in The Hub is owned by the Trade Ninjas, who also own a nearby location known as the Rebel Base. Shinobi Thieves occupy a watchtower at a far end of the settlement.
Many characters can potentially be found at the bar here. Most notably, Hobbs might ask the player to come have a drink with him. Other possible bar squads include Bar Thug Drunk. It is the location of The Wanderer and Son of a Captain game starts. If you are not starting out in the Hub it is possible to place it on your map by reading the Map of the Border Zone.
Several copper and iron nodes within walking distance from the gates make it possible to run a fairly large-scale mining operation just outside of the Hub.
The Hounds pacifier can be found here.
Lore
[
]
The Hub is in the Border Zone, a contested region between the Shek Kingdom and the Holy Nation. The history of the Hub is written in a series of notes that can be found in the Small Shack that is not in ruins. That building contains 5 letters in total:
The notes reveal that the Hub was once part of the Holy Nation. The Holy Nation military made several attempts to retake the city but would inevitably lose it within months. The Shek Kingdom occupied the Hub for some time, but eventually sacked the city and set it ablaze before retreating. After that, a Holy Nation squad was sent to the ruins to investigate. They spotted some "shadowy figures" in the city, but didn't find any enemies to fight. After losing a bonedog and one of the Sentinel to some unseen force picking them off, the Holy Nation soldiers retreated, claiming the ruins are haunted by "wraiths". It is implied that the same "wraiths" (presumably the Trade Ninjas and/or the Shinobi Thieves) have driven the Shek soldiers out by using the same tactics.
Buildings and Shops
[
]
Buildings for Sale
[
]
Tips
[
]