Swamp Villages are two small villages which contain a few buildings and resources within the Swamp. Both can be discovered by reading the Map of the Swamps. Both have Big Shops and hashish dealers. Swampers run and protect both villages so they serve as helpful rest stops in the Swamp for players to heal in relative safety.
Northwest Village
[
]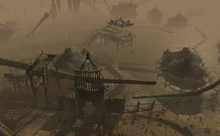 The northwest Swamp Village is situated at the northwestern part of The Swamp bordering Stenn Desert. This village contains a multipurpose supplies shop and is fenced in to help protect against the unforgiving residents.
Buildings
[
]
Residential building x5 for sale (x4 c.4000) (x1 c.16,000)
Lookout tower
Big Shop
Riceweed farms x8
Southwest Village
[
]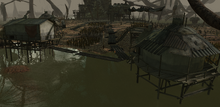 This Swamp Village is south west of Shark. Unlike its northern counterpart it lacks a fence and gate and also has some building situated on top of water. It is the midway point between Shark and the Swamped Lab.
Buildings
[
]
Residential building x2 for sale (x1 c.4000) (x1 16,000)
Residential Small building
Big Shop
Lookout Tower
Riceweed farm x9