Fire Emblem Warriors: Three Hopes - The Loop
Play Sound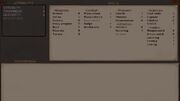 Character Statistics (henceforth abbreviated as stats) are a collection of numbers that define your character, modifying what your character can do and how effectively they can do it. These stats can be increased by completing actions that are affected by said stats. For example, weapons skills can be increased by engaging in combat with the specified weapon.
Statistics break down into seven main categories: Attributes, Weapon Skills, Combat Skills, Thievery Skills, Athletic Skills, Science Skills, and Trade Skills.
In the Stats window, players can view all the levels of their selected Player Character. By hovering over a specific skill, players can read descriptions about that skill as well as view how much experience their character has towards the next level in that skill.
Races, playable and commonly found
Experience Multipliers
Human
Shek
Hive
Skeleton
Greenlander
Scorchlander
Shek
Hive Prince
Hive Soldier Drone
Hive Worker Drone
P4 Unit
Skeleton
Soldierbot
Attributes
Dexterity
+
--
++
++
Perception
++
--
++
Strength
-
+
--
--
Toughness
++
++
++
++
Athletic Skills
Athletics
++
--
++
++
Swimming
None available
Combat Skills
Dodge
++
--
--
--
--
Martial Arts
--
Melee Attack
++
++
Melee Defence
None available
Science Skills
Engineer
--
++
++
Field Medic
++
--
++
--
Robotics
--
--
++
++
Science
++
--
++
--
--
++
Thievery Skills
Assasiation
None available
Lockpicking
++
Stealth
++
--
++
++
--
--
--
Thievery
--
++
++
--
--
--
Trade Skills
Armour Smith
++
--
++
Cooking
++
--
--
--
Crossbow Smith
None available
Labouring
--
--
--
--
++
Farming
++
--
--
++
Weapon Smith
++
--
++
Ranged Skills
Crossbows
None available
Turrets
++
++
Weapons Skills
Blunt
None available
Hackers
None available
Heavy Weapons
++
Katanas
--
Polearms
None available
Sabres
None available
Attributes
Attributes are the core stats of your character. They also have a direct effect on how efficient your character is in combat. There are currently 4 Attributes.
Weapon skills
Weapons Skills are stats that govern how much damage you do with certain weapons. They can be increased by direct combat with a weapon. There are currently 7 Weapon Skills.
Melee
Range
Turrets - Determines the ability for characters to use defensive weapon turrets (accuracy, aiming speed and reload speed).
Crossbows - Skill at shooting with crossbows (accuracy, aiming speed and reload speed).
Precision Shooting - The ability to avoid accidentally shooting your allies (and yes, it is increased by accidentally shooting your allies).
Combat Skills
Combat Skills are the skills that govern how effective your characters are in combat. Determining how successful your attacks, blocks, and dodges will be. There are 4 Combat Skills, all affected by Stronger Opponent Logic.
Thievery Skills
Thievery Skills are the skills that govern all things related to stealth. From lockpicking to sneaking, and assassinating to disguising, there are 4 Thievery Skills:
Athletic Skills
Athletic Skills are the skills that govern movement in the world, whether it be running or swimming. There are 2 Athletic Skills.
Science Skills
Science Skills are the skills that govern the more intellectual activities, such as First Aid, Robotics, and Prospecting. There are 4 Science Skills.
Trade Skills
Trade Skills are the skills that govern the crafting of various items, often for the purposes of making money via selling the products. There are 6 Trade Skills.
Trivia
Certain Races have experience modifiers that can benefit or hamper the amount of experience earned for some skills.