New Pokemon Games - The Loop
Play Sound
An expensive silk robe made by artisans of the Empire's capital. Worn by nobles and the wealthy elite as a sign of status.
Slot:
ARMOR
Type:
Armour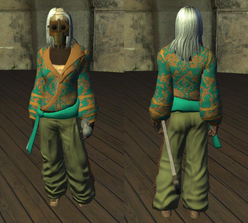 These are worn by Noble Hunters and all other Nobles of the United Cities. It is part of a costume set with Noble's Trousers. Despite the matching pants designated as clothing, this robe is qualified as armour with no class assigned.
This armour has inventory dimensions of 4x6.
Appearance
[
]
The Noble's Robe appears to be a puffy, long-sleeved, collared, green and orange robe of a vibrant design, tied at the bottom by a light green sash.
Crafting
[
]
The blueprint for this item might be found in the Great Library in Black Scratch. After researching, it can be crafted at the Clothing Bench.
Noble's Robe
[Specialist Grade]
[Cloth]
-Blunt resistance
2%
-Cut resistance
3%
-Cut resistance efficiency
60%
-Weight
2 kg
-Value
c.1,540
-Sell value
c.385
[Coverage]
-Chest
100%
-Stomach
100%
-Right Arm
100%
-Left Arm
100%
[Skills]
-Stealth effect
0.70x