A safe place to store your medikits.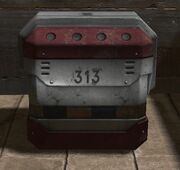 The Medicrate is a storage container for Medical Items such as First Aid Kits and Splint Kits. Items stored in the Medicrate can be stacked in groups of five. The ability to construct this building is unlocked after researching Basic First Aid Kits.
This container does not store Skeleton Repair Kits.
Details
[
]
Power Consumption - 0
Efficiency - 1x