Type:
Exterior
Materials cost:
Hemp
10
Estimated build time:
0 hrs





Hemp is a versatile crop and can be used for medicine, narcotics, fuel, and is a more efficient source of cloth. However, it may be regarded as illegal by some of the less free societies.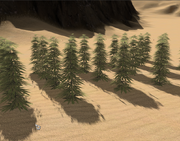 A Hemp Farm produces hemp, which can be made into fabrics, biofuel, and for the daring, Hashish. Growing hemp is illegal in the United Cities.
Hemp farms can be found in Shark, Mud Town, Rot, and all Swamp Villages.
Hemp Farm

INPUTS
OUTPUT

Water

(.5 required)

Hemp
Community content is available under
CC-BY-SA
unless otherwise noted.