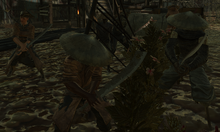 "
The Grayflayers tend to keep to themselves. They mainly do raids, heists, and covert missions for big payin' customers. Apparently they only steal from the 'bad', so I hear, but no one knows too much about their activities.
"

–Swamper Barman
Grayflayers are one of the gangs within The Swamp. They can be found in the city of Shark and within their village called Grayflayer Village. Their faction is run by Big Gray and, like the other gangs, they deal in hashish.
Grayflayer Village is controlled by the Swampers faction.
This faction has no special relations towards other factions.
The reasons for this faction to have a non-zero relation towards you.
Towns
These towns, outposts, and other locations are controlled by this faction.
Smugglers Bar
Town Overrides
There are no locations which can be controlled by this faction due to changes in World States.
Community content is available under
CC-BY-SA
unless otherwise noted.