Stats Affected:

Description:


The skill at building and repairing structures.
-Building things
-Repairing things
Ways to Train:
-Building things
-Repairing things

-Sciences-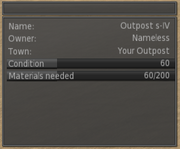 The Engineering skill affects the time it takes to construct buildings and objects. Constructing objects and buildings increases this skill. The construction page has more information on how the engineer skill is used in-game.
Experience for this skill can be gained by building things, repairing buildings, and by producing Copper Alloy Plates at the Copper Alloy Bench.