Type:
Interior
Materials cost:
Iron Plates
3
Estimated build time:
1 hrs





A bench for making various sorts of clothing.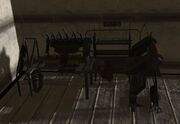 The Clothing Bench is a crafting building type introduced in version 0.67.0. This crafting station allows players to craft cloth-based armour and clothing. Players can construct this building after researching Clothing Manufacture. Additional research and blueprints can be used to unlock more items to craft on this bench.
Clothing Bench

INPUTS
ITEMS

Fabrics





(holds 10)

NA





-
Power Consumption - 4
Efficiency - 1x
Workers - 1
Community content is available under
CC-BY-SA
unless otherwise noted.