GTA: The Criminal Enterprises - The Loop
Play Sound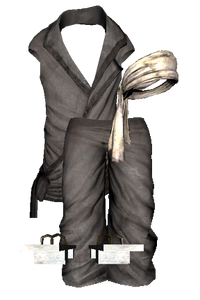 "
'Ey, what's with those rags, you're wearing anyway? Look like you've been chewed on by a gutter...
"

–Catun Bar Patron
Clothing is any equipment which can be equipped in an armour slot but gives no defensive bonus and does not fall into the Light, Medium, or Heavy armour class. Many serve no purpose beyond decreasing your "looks like a slave" rating when escaping Slavery. Clothing tends to be found as starting gear on new recruits. Some clothing may provide bonuses to Athletics, Combat Speed, Stealth, or Martial Arts.
While clothing items give no stats bonus depending on their quality, the player-crafted high quality items are still identifiable by a slight change in the worded description. Such items are described as "high quality armour", followed by a generic description that cites the creator's name. Only the smiths that are able to regularly craft "Specialist" level gear make clothing with this special description.
Headgear
There are eight Clothing Headgear options.
Shirts
There are six Clothing Shirt options.
Legwear
There are ten Clothing Legwear options.
*There are colored/dyed versions of these items
Body Armour
There are five Clothing Body Armour options.
*It's considered Heavy Armour by the FCS.
Footwear
There are two Clothing Footwear option.
*It's considered Medium Armour by the FCS.