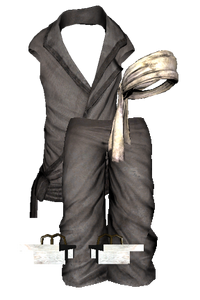 "
The finest clothing is a person's own skin, but, of course, society demands more than this.
"

–M.T.
Clothing is any equipment which can be equipped in an armour slot but gives no defensive bonus and does not fall into the Light, Medium, or Heavy armour class. Many serve no purpose beyond decreasing your "looks like a slave" rating when escaping Slavery. Clothing tends to be found as starting gear on new recruits. Some clothing may provide bonuses to Athletics, Combat Speed, Stealth. or Martial Arts.
Headgear
Edit
There are three Clothing Headgear options.
There are five Clothing Shirt options.
There are eight Clothing Legwear options.
Body Armour
Edit
There are four Clothing Body Armour options.
Footwear
Edit
There is one Clothing Footwear option.