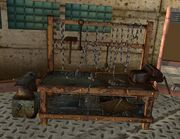 "
A setup for the difficult and tedious task of creating chainmail. Many smiths prefer to just buy the stuff, or assign an apprentice to the job.
"

–Ingame description
The Chainmail Sheet Fabrication Bench is a crafting building type introduced in patch 0.50. This crafting station allows players to craft Chainmail Sheets by hand. 
These sheets can then be fashioned into armour at a Chain Armour Crafting Bench. 
Chainmail Sheet Fabrication Bench Construction Info
Edit
Type - Interior/exterior
Estimated Build Time - 1 Hours
Power Consumption - 8
Efficiency - 100%
Produces - Chainmail Sheet
Can't be upgraded
Chainmail Sheet Fabrication Bench Building Info
Edit