Roblox: DeepWoken - The Loop
Play Sound
Reinforced to pad your legs, turns a potential slice into a nasty bruise.
Slot:
PANTS
Type:
Light Armour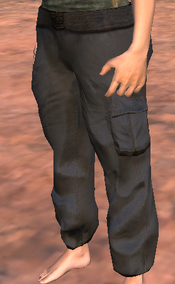 Cargopants [Reinforced] are Light Armour that is equipped in the Legwear slot. There is an unarmored variant (in plain and colourable versions) as well as armoured padded and chain variants of this armour.
This armour has inventory dimensions of 4x4.
Appearance
[
]
Cargopants [Reinforced] are simple full-leg length black pants. They are held up on the character by a black belt and have one cargo pocket on each leg about knee height.
Stats
[
]
Cargopants [reinforced]

[Prototype Grade]

[Light Armour Class]
[Leather]
-Blunt resistance
1%
-Cut resistance
2%
-Cut resistance efficiency
30%
-Harpoon resistance
1pts
-Weight
2 kg
-Value
c.57
-Sell value
c.14
[Coverage]
-Right Leg
100%
-Left Leg
100%
Cargopants [reinforced]

[Shoddy Grade]

[Light Armour Class]
[Leather]
-Blunt resistance
7%
-Cut resistance
8%
-Cut resistance efficiency
30%
-Harpoon resistance
6pts
-Weight
2 kg
-Value
c.291
-Sell value
c.72
[Coverage]
-Right Leg
100%
-Left Leg
100%
Cargopants [reinforced]

[Standard Grade]

[Light Armour Class]
[Leather]
-Blunt resistance
15%
-Cut resistance
17%
-Cut resistance efficiency
30%
-Harpoon resistance
13pts
-Weight
2 kg
-Value
c.1,043
-Sell value
c.260
[Coverage]
-Right Leg
100%
-Left Leg
100%
Cargopants [reinforced]

[High Grade]

[Light Armour Class]
[Leather]
-Blunt resistance
22%
-Cut resistance
26%
-Cut resistance efficiency
30%
-Harpoon resistance
20pts
-Weight
2 kg
-Value
c.2,294
-Sell value
c.573
[Coverage]
-Right Leg
100%
-Left Leg
100%
Cargopants [reinforced]

[Specialist Grade]

[Light Armour Class]
[Leather]
-Blunt resistance
30%
-Cut resistance
35%
-Cut resistance efficiency
30%
-Harpoon resistance
27pts
-Weight
2 kg
-Value
c.4,046
-Sell value
c.1,011
[Coverage]
-Right Leg
100%
-Left Leg
100%
Cargopants [reinforced]

[Masterwork Grade]

[Light Armour Class]
[Leather]
-Blunt resistance
36%
-Cut resistance
41%
-Cut resistance efficiency
30%
-Harpoon resistance
33pts
-Weight
2 kg
-Value
c.5,689
-Sell value
c.1,422
[Coverage]
-Right Leg
100%
-Left Leg
100%
Source
[
]
Locations
Always Equipped
Potentially Equipped

Boss Simion [S]
Doctor [S]
Surgeon [S]


Bounty Hunter [S] [H]
Outlaw [S] [S]
Smuggler [S] [H]
Stone Camp Trader [S] [H]
Stone Rat [S]
Swamper Bar Thug [S] [S]
Swamper Barman [S]
Swamper Gate Guard [S] [M]
Swamper Mech Shopkeeper [S] [S]
Swamper Non-Gang [S] [S]
Swamper Non-Gang (weaker) [S] [S]
Yabuta Outlaw [S]


Shops
Loot

Clothes Shop [P] [S] [S] [H]
Clothing Shop [P] [S] [S] [H] [S]
Flotsam Armory [S] [S] [H]
Mongrel Clothes Shop [S] [S] [H] [S]
The Great Library


Cactus Den
Cannibal Capital
Cannibal Village
First Village
Tower Of Ninjas

Crafting
[
]
Cargopants (reinforced)

[Research Blueprint]

-Value

c.

2,607
-Sell value

c.

651
Requirements:
New Armour Type:
Cargopants (reinforced)