GTA: The Criminal Enterprises - The Loop
Play Sound
Black rags typical of down-and-out hobo ninjas
Slot:
ARMOR
Type:
Clothing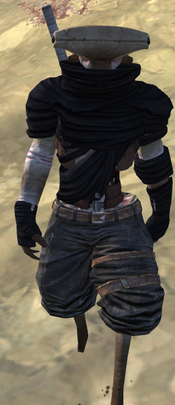 The Black Rag Shirt is a piece of Clothing that is equipped in the Body Armour slot. Because of its color, it has a stealth bonus unlike its plain, dyed, and holy variants.
This armour has inventory dimensions of 4x6.
Appearance
The Black Rag Shirt is made up of several ragged strips of black cloth that wrap around the characters neck and upper torso. Some strips of this wrap hang down and cover a small amount of the stomach. Both hands are wrapped in a similar fashion but additional strips cover the left forearm.
Stats
Black Rag Shirt

[Prototype Grade]

[Cloth]
-Blunt resistance
0%
-Cut resistance
0%
-Cut resistance efficiency
80%
-Weight
1 kg
-Value
c.17
-Sell value
c.4
[Coverage]
-Head
25%
-Chest
10%
-Right Arm
95%
[Skills]
-Stealth effect
1.10x
Black Rag Shirt

[Shoddy Grade]

[Cloth]
-Blunt resistance
0%
-Cut resistance
0%
-Cut resistance efficiency
80%
-Weight
1 kg
-Value
c.107
-Sell value
c.26
[Coverage]
-Head
25%
-Chest
10%
-Right Arm
95%
[Skills]
-Stealth effect
1.10x
Black Rag Shirt

[Standard Grade]

[Cloth]
-Blunt resistance
1%
-Cut resistance
1%
-Cut resistance efficiency
80%
-Weight
1 kg
-Value
c.393
-Sell value
c.98
[Coverage]
-Head
25%
-Chest
10%
-Right Arm
95%
[Skills]
-Stealth effect
1.10x
Black Rag Shirt

[High Grade]

[Cloth]
-Blunt resistance
1%
-Cut resistance
2%
-Cut resistance efficiency
80%
-Weight
1 kg
-Value
c.871
-Sell value
c.217
[Coverage]
-Head
25%
-Chest
10%
-Right Arm
95%
[Skills]
-Stealth effect
1.10x
Black Rag Shirt

[Specialist Grade]

[Cloth]
-Blunt resistance
2%
-Cut resistance
3%
-Cut resistance efficiency
80%
-Weight
1 kg
-Value
c.1,540
-Sell value
c.385
[Coverage]
-Head
25%
-Chest
10%
-Right Arm
95%
[Skills]
-Stealth effect
1.10x
Black Rag Shirt

[Masterwork Grade]

[Cloth]
-Blunt resistance
2%
-Cut resistance
3%
-Cut resistance efficiency
80%
-Weight
1 kg
-Value
c.2,166
-Sell value
c.541
[Coverage]
-Head
25%
-Chest
10%
-Right Arm
95%
[Skills]
-Stealth effect
1.10x
Source
Locations
Always Equipped
Potentially Equipped

There are no characters which have a guaranteed chance of spawning with this item equipped.

Shops
Loot

The Great Library
Thieves Guild [S] [S] [H] [S]


Anti-Slaver Barracks
Anti-Slaver HQ
Anti-Slaver Prison
Flotsam Barracks
Flotsam HQ
Mongrel HQ
Tech Hunter HQ


Crafting
Black Rag Shirt

[Research Blueprint]

-Value

c.

982
-Sell value

c.

245
Requirements:
New Armour Type:
Black Rag Shirt