Agnu is a Unique Recruit. They can be found imprisoned by the Thrall Masters in the top floor of the Tower of Abuse. Agnu will join the player after being freed. They are the only Soldierbot that can be be easily recruited without the use of mods.
Agnu has several lines of unique dialogue, most of which are screams because, similar to Ray, Agnu is unable to speak. Agnu often shares these dialogues with Beep.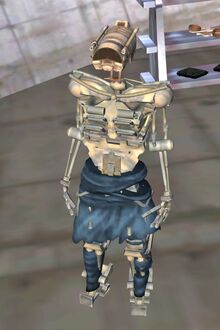 They wear no armour.
Statistics

---

Attributes
Level
Strength
50
Toughness
1
Dexterity
1
Perception
1

---

Combat Skills
Level
Melee Attack, Melee Defence
1
Dodge, Martial Arts
1

---

Weapon Skills
Level
Blunt, Hackers, Heavy, Katanas, Polearms, Sabres
1

---

Ranged Skills
Level
Turrets
1
Crossbows
1
Precision Shooting
1

---

Thievery Skills
Level
Stealth, Lockpicking, Thievery
1
Assassination
1

---

Athletic Skills
Level
Athletics, Swimming
1

---

Science Skills
Level
Field Medic
1
Engineer, Robotics, Science
1

---

Trade Skills
Level
Weapon Smith, Armour Smith, Labouring, Farming, Cooking
1

---

The Statistics here are taken from FCS. Skills will be multiplied by the racial multiplier. Players should also be aware that non-player characters also level up while fighting.
Agnu has a set clothing color (blue robot rags). This will allow them to dye colourable clothing such as the Armoured Rags (colored) and Armoured Rag Skirt (colored) which are conveniently worn by their captors.
Agnu is perhaps related to the Second Empire police forces found at Ashland Dome IV and Police Barracks, because they share the same clothing color and race.
A bug existed in some game versions prior to the 1.0 release that prevented unique prisoners like Agnu and Cat to spawn if the game was imported in the past. Importing again without "Dead NPCs" fixed the problem.
Trivia